Mogens' daughter Esther Elisabeth
No wonder, that Mogens Uhrenholt named his first born after the Biblical Esther
In the book Esther's Book is about how the Jewish Esther, who has become queen of the Persian king Ahasuerus (Xerxes), becomes the tool for averting ethnic cleansing of the Jewish people. A rescue that, according to the scripture, is the reason why Jews today celebrate the Purim or Lofthus party every year in October. Therefore, Esther's Book is also one of the Jews' 5 rolls (megillots), where this book is thus read up to the Purim party.

Ester or Esther therefore personifies the joy and all the good. This goes for the Jews of ancient times; as for for Mogens and his first wife Thellefsine, in the middle of the evening, Friday, 20 November 1903, their first born daughter Esther Elisabeth was born at their home at Clarence Ave., Racine, Wisconsin
​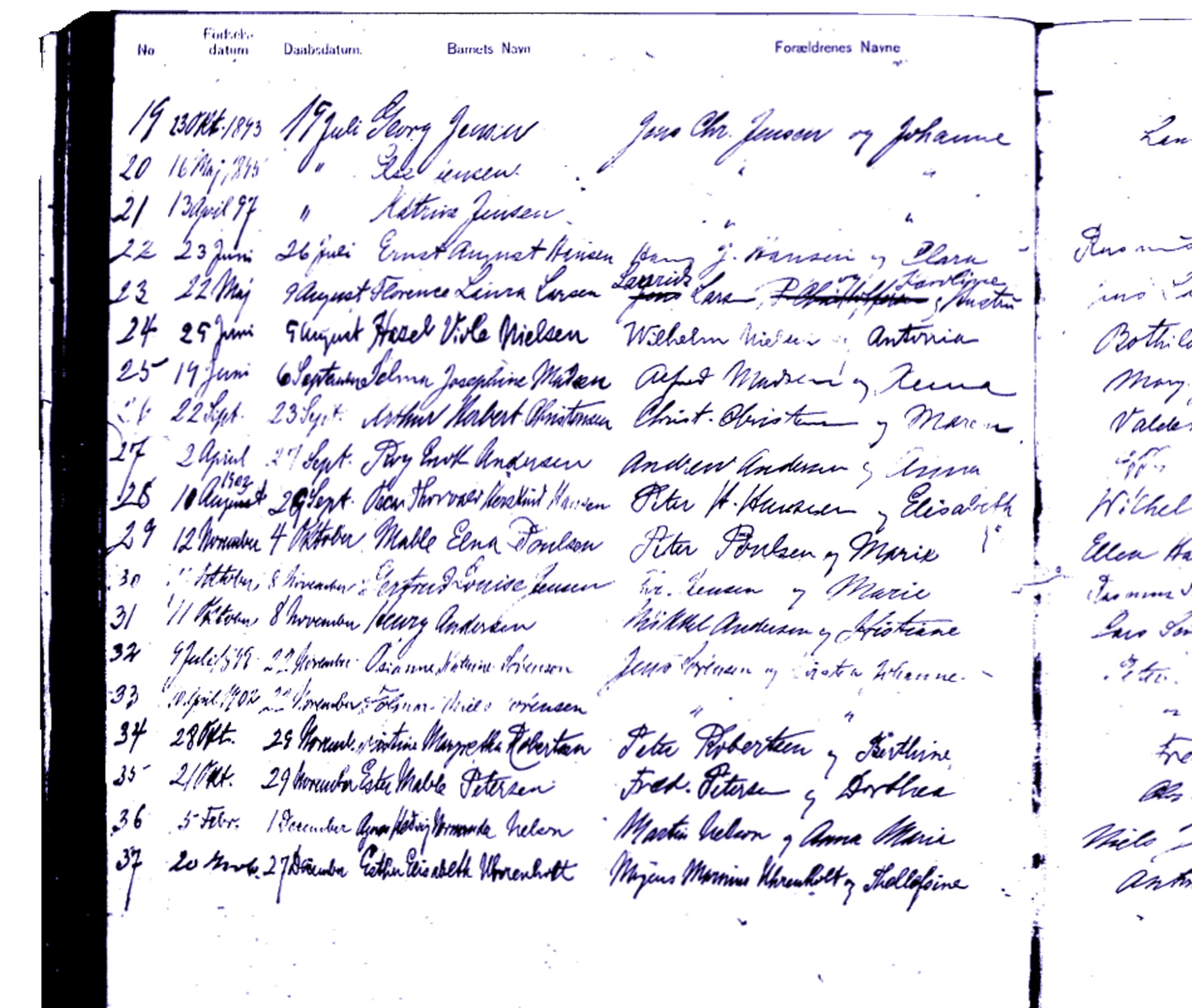 ​The church book of the Danish-Norwegian church in Racine indicates Esther Elisabeth at the bottom of the page.

Unknown to the family
No one in Denmark, neither in the Uhrenholt family or in Mission Africa knew anything of Mogens' family in the United States, or what happened later with Esther Elisabeth or her sister Mary and their mother Thelelfsine.
But after Thellefsine's death in the maternity bed, after giving birth to Mary Uhrenholt 28 June 1905, Mogens Uhrenholt traveled with the 2½-year-old Esther Elisabeth Uhrenholt to Denmark, where Esther Elisabeth moved in with her grandfather of Øster Uttrup, outside Aalborg.

In the census of February 1, 1906, she is referred to as "relative" to Mogens' father, Jens Peder Uhrenholt.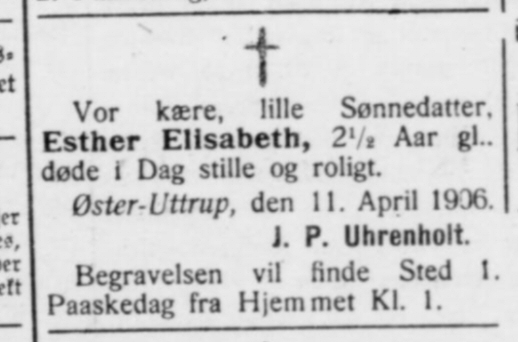 ​Aalborg Amtstidende, 12 April 1906, p2 - download the whole paper.

For yet unknown reasons, the 2½ year old Esther Elisabeth died "quietly" in Øster Uttrup 11 April 1906. The news about the daughter's death must have reached Mogens Uhrenholt in the United States while he was in Chicago with his medical studies.


BONUS:
22 January 1916, while Mogens was still in Denmark a few months later to travel to Nigeria, Mogens' brother Chresten and the sister-in-law Ane had a daughter, who they named Esther Elisabeth Uhrenholt.